The Team
Project Director
Claire Kilpatrick  is Dean of Graduate Studies, Professor of International and European Labour and Social Law and Co-Director of the Academy of European Law.
Before coming to the EUI in 2011, she worked at LSE and before that at Cambridge University. Her interests lie mainly in the law and policy construction of Social Europe, especially the EU's roles. Her interests in free movement and Social Europe stem particularly from new developments sparked by enlargement and challenges posed by Brexit. Another focus of her recent work has focused on EMU and Social Europe with a particular focus on sovereign debt loan arrangements and legal challenges to those arrangements from those within debtor EU states. She is a member of the Editorial Boards of the Industrial Law Journal and the International Journal of Comparative Labour Law and Industrial Relations and of the Advisory Boards of the European Journal of Legal Studies and the European Law Journal.
Scientific Committee
Hanna Eklund is Assistant Professor of Constitutional Law at the Faculty of Law of Copenhagen University. She was previously a Postdoctoral Researcher at the Sciences Po Law School in Paris and holds a PhD in European Law from the European University Institute (EUI) in Florence (2016). In 2020 she was awarded a Marie Skłodowska-Curie Individual Fellowship for the project 'An Ever Closer Union Among the Peoples of Europe: A Critical Legal History (EPoCH)' which deals with colonialism and socio-economic stratification in European integration.
Lilla Farkas has been a member of the Budapest Bar Association since 1998. She has worked for domestic and international human rights NGOs on asylum, immigration, criminal justice and discrimination, being engaged in desegregation litigation between 2004 and 2014. She served as president of the Hungarian Equal Treatment Authority's Advisory Board between 2005 and 2011. Once a senior country expert for the Fundamental Rights Agency, she is now senior legal policy analyst for the Migration Policy Group, serving as the race (Roma) ground coordinator of the European network of legal experts on gender equality and non-discrimination (since 2005). She holds an LLM from King's College, London and a PhD in Law from the EUI.
Jeffrey Miller is an assistant professor at Gallaudet University in Washington, DC, where he teaches courses on disability rights law and business law.  He completed a PhD in Law on disability rights discrimination in Europe under the supervision of Professor Claire Kilpatrick in 2020. Previously, he practiced law in the United States, where he mainly represented clients in cases involving the Americans with Disabilities Act and the Individuals with Disabilities Education Act.  Jeff holds a J.D. from American University Washington College of Law and an M. Phil. in European Politics and Society from the University of Oxford.  His recent publications include The European Disability Rights Revolution, (ELR, 2019) and Explaining Paradigm Shifts in Danish Anti-discrimination Law (MJECL, 2019).
 Virginia Passalacqua is a Postdoctoral Fellow at the University of Turin and at Collegio Carlo Alberto. She holds a PhD in law from the EUI, where she worked under the supervision of Professor Bruno de Witte on a dissertation on legal mobilization in support of migrants before the CJEU. More generally, she is interested in understanding how social processes shape the law and vice versa, with a particular focus on the role of civil society and minorities. Virginia received her LL.M. from the University of Bologna and from the EUI. She was a visiting PhD researcher at the London School of Economics (2016) and at the Oxford's Refugee Studies Centre (2018).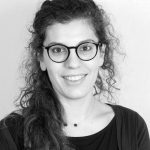 Raphaële Xenidis is a Marie Curie Fellow at iCourts, University of Copenhagen Law School, where she conducts research on algorithmic discrimination, and a lecturer in EU law at the University of Edinburgh, School of Law. Previously, Raphaële was a researcher in equality law at Utrecht University, where she also worked for the European Network of legal experts in gender equality and non-discrimination law. Raphaële has completed her Ph.D. in law at the European University Institute. Her thesis focused on the diffusion, mobilization and operationalization of the concept of intersectionality in the context of European equality law. Her broader research interests include anti-discrimination law, feminist and critical legal studies, legal mobilization/law and society and the intersection of equality law and new technologies/artificial intelligence.