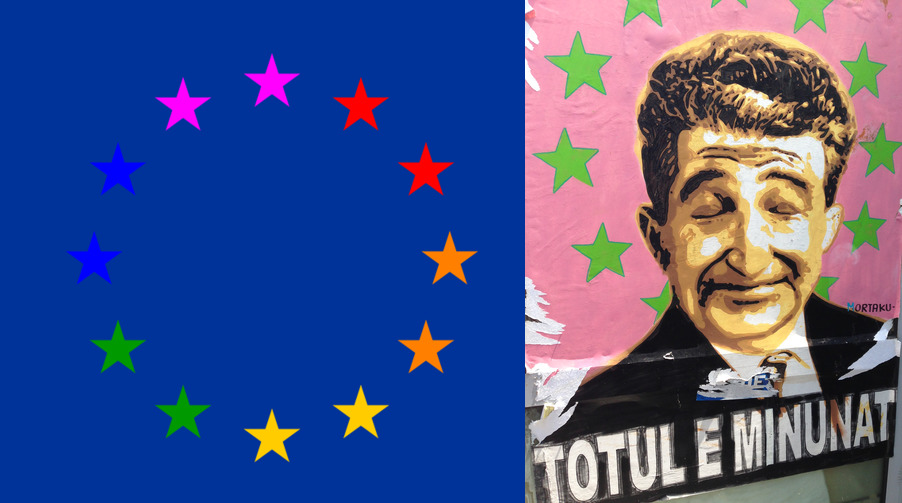 Reimagined EU flag and street art Bucharest 2016 "Everything is wonderful" (PDM/H. Eklund).
The Database
The Equality Law in Europe: A New Generation project has put together a database of all of the Court of Justice of the European Union's (CJEU) discrimination cases between decided between 1970-2018. As of today, the database covers the discrimination grounds of gender, age, race, disability, religion, sexual orientation and ethnicity.
At present the database includes more than 400 cases and is constructed in Excel format to allow researchers to engage with the datasets in multiple ways. The database allows you to explore which country has been subjected to most infringement procedures, how many preliminary references your EU Member State of interest has sent to the CJEU concerning non-discrimination and in relation to which discrimination ground, and to get a complete overview of which EU legal sources (i.e. directives and treaty articles) have been used during the time period between 1970-2018, to take just a few examples. Importantly, the database also contains information concerning the litigants, such as gender and age.
Click here for a complete dataset of all cases registered between 1970 and 2018 with the CJEU that involve the grounds identified in Article 19 TFEU.
Click here for a dataset that includes all the preliminary references between 1970 and 2018 that involve grounds identified in Article 19 TFEU.
Click here for a dataset that provides the total number of all preliminary references lodged with the CJEU by each Member State by year (1961-2018).
Please consult the User Guide, which will help you get started and learn how to fully explore the resources provided by the database.
For citation of these recourses, please use: Equality Law in Europe: A New Generation CJEU Database.
What Can I Find Out by Using the Datasets?
Our database is intended to provide answers to questions regarding the development of EU discrimination law. The following are examples of graphs that you can construct using our datasets.
Click on the graphs to learn more about which EU Member States ask the CJEU the most and the least preliminary questions about discrimination, and how that compares to the preliminary references that these same countries ask regarding other areas of EU law …
Click on the graphs to find out which of the discrimination grounds of gender, age, race, disability, religion, sexual orientation and ethnicity are most frequently addressed by the CJEU…
Are you interested in any particular group of EU Member States? Have a look at this graph to learn more about how the Nordic EU Member States compare with each other in the area of EU discrimination law…